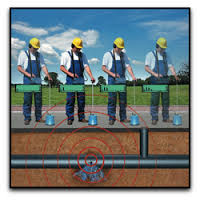 When you are running a business, it is hard to micromanage every aspect of your location. But if you are ever concerned about an increasing water bill or the identification of wet spots in the foundation of your building, it might be time to call us and our commercial leak detection services.
All Hours Emergency Plumber has been helping businesses in Jacksonville for several years. One of the most common mistakes that a business will do is not call for leak detection services. Water damage and restoration causes are much more expensive than leak detection services which could possible spot and repair a small leak in a system before it expands into a full fissure.
Signs of a Leak
Drastic Increase in Water Bill
When to Call Us
If you have confirmed that the above problems are plaguing your place of business you should call us immediately. It is better to be safe than sorry, and our expert plumbers will be able to find and root out the problem before it turns into something much bigger.
What our Process is
The first thing our team does when we arrive at the location is pulled out the infrared imaging and see what we can detect in a non-invasive manner. Water leaks and dripping can be easily seen when infrared imaging is being used. We will snake down a camera through the pipes and see where the possible leak is occurring and find it.
Depending on the size of the leak, it can be fixed on the spot or might require a return visit. The sooner you suspect there is a leak in your system and contact us in return, the sooner we can save you money and time by repairing the small crack in the pipe. The longer you wait, the more pressure will build up, and the more water will leak out which can turn a few hundred dollar job into thousands of expenses overnight.
All Hours Emergency Plumber
We are a 24-hour plumbing service. We understand that emergencies do not wait until they are convenient for you and so we make ourselves available for you whenever you need us. We have high customer service ratings and repeat business because we work so hard for our clients. IF you would like to know more about our leak detection services or our company, make sure to give us a call at 904-574-5100