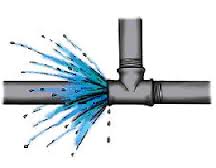 If you have a burst pipe or a leaking fixture and you need to call our emergency leak repair hotline, do so now at (904) 574-5100!
If there is currently a leak going on in your home or business you need to perform the following steps to minimize the amount of damage that is going on in your home. This is an urgent matter, do not take a leaking pipe lightly.
What to do during an Emergency Leak!
First, make sure to call us at (904) 574-5100! Our plumbers will be there shortly to sort out and resolve the problem. Next, you need to perform the following steps:
Identify the Leak – If you have the ability to stop the leak yourself, we insist you do it immediately. If you cannot stop the leak, stop the source of water. Turn off your emergency water valve, so water stops running to your business. Identify the personal belongings that are most important.
Map out the Area – When you map out the area you let us know where the water has spread to and give us an idea of where it is coming from. By mapping out your affected area, we can work faster and more thoroughly. You also need to make a note of what kind of water is affecting you, if you are being hit by water that is from sewage
Dry what you can – Grab extra towels or absorbent materials that would be able to stop the flow of water and thus impending damage to your establishment!
All Hours Emergency Plumber
By the time you've followed those steps, we should be near or at your establishment. We will take it from there and perform our emergency leak repair. We are a 24-hour business meaning that when disaster strike, give us a call and we will be there to assist you as best as we can. If you would like to know more about our business or services, make sure to call us at (904) 574-5100!