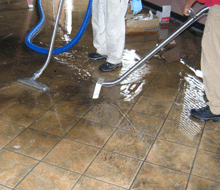 Floods can do an incredible amount of damage to your home. If you are in need of residential flood clean up immediately, make sure to call us at 904-574-5100!
Floods are some of the most dangerous parts of owning a home. In the past five years, every state in America has experienced a flood or flash flood. Because of this information, Floodsmart.gov has declared that everyone lives in a flood zone. When you are the victim of flood damage, it is hard to tackle all of the things you need to do. But as soon as a flood happens it is vital that you call us and our residential flood clean up service first.
What to do after a flood happens
After a flood happens, the first thing you should do is make sure that there is no standing water and if there is that the electricity is off. You want to look after your safety before you look over your belongings.  Next, you want to call us at 904-574-5100, and we will be on our way to you in less than thirty minutes. After that you need to follow these steps:
Identify the Leak – If you have the ability to stop the leak yourself, we insist you do it immediately. If you cannot stop the leak, stop the source of water. Turn off your emergency water valve, so water stops running to your business. Identify the personal belongings that are most important.
Map out the Area – When you map out the area you let us know where the water has spread to and give us an idea of where it is coming from. By mapping out your affected area, we can work faster and more thoroughly. You also need to make a note of what kind of water is affecting you, if you are being hit by water that is from sewage
Dry what you can – Grab extra towels or absorbent materials that would be able to stop the flow of water and thus impending damage to your establishment!
All Hours Emergency Plumbing
Navigating the ins and outs of homeowner's insurance is unfortunately out of our hands. However, we will be here for you, 24 hours a day in the event of a flood. Don't hesitate to call us because we are here for you 904-574-5100!